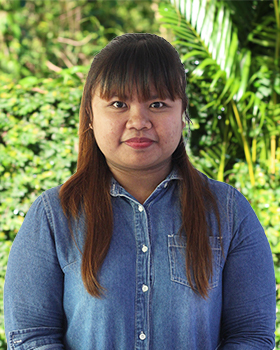 SHIENA
My name is Shiena Mae Azur. You can call me Teacher Shiena. I'm from Tarlac, Philippines. I'm a pet lover and I like dogs the most. I actually have 8 dogs. I like both Filipino and Japanese food. Listening to English songs is my favorite hobby. Sometimes, while listening to music, I read short English stories on the internet.
I am one of the energetic, friendly and funny teachers in CNE1. For me, teaching English to foreign students is fulfilling and exciting. In CNE1, you will experience fun classes and exciting activities. You will meet the best and kindest teachers who will help you learn a lot! You can approach polite and caring Japanese and Filipino staff. You will also meet smart and friendly students.
CNE1 also has a nice environment, comfortable and clean bedrooms and classrooms, and delicious foods are served. CNE1 is the perfect school for you to study English while having fun! So, what are you waiting for, enroll now and be a great speaker of the English language. See you!