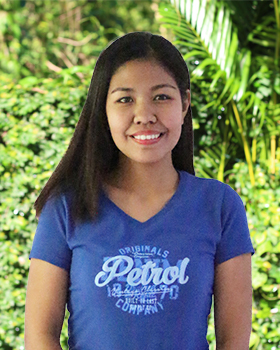 HELEN
Hi! I am Helen! I am from Rosales, Pangasinan and currently working at CNE1 as a Language teacher. I tend to be an aloof, quiet and boring kind of person but I found myself being inclusive at dealing with other people since I started teaching and working in this institution. I can say that I am truly blessed to know more about other countries' culture and custom and to treasure sweet, funny and crazy moments with wonderful people around us. Moreover, I am glad to share happy thoughts about our school and family as well.
CNE1 has its good ambiance including facilities which are conducive to learning, a stress-free atmosphere which involves friendly, smart and approachable teachers and staff. Aside from that, students and teachers are here not only to learn but also to enjoy because of the opportunities it has to offer. There are various events, groups, activities being held and organized especially designed for the students and teachers. This is one of the schools ways to ensure that its family grows and manifest everything they learned wherever they are. And of course, English language has been one of its weapons and inspirations through thick and thin.
If I may say one phrase that would describe CNE1, it would be "HAPPY TEACHING, HAPY LEARNING". To those who have been parts and will be parts of this institution, Congratulations because you have found a happy place. Cool beans!