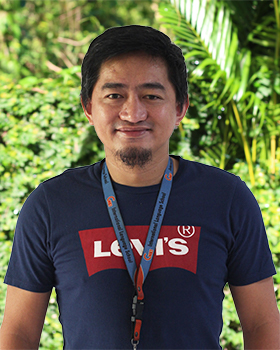 CHICO
Hi! My name is Julius Kinchasan but I prefer to be called CHICO. I was born, raised and finished my studies in Baguio City. My hobbies are listening to music, playing the guitar, playing on line games and watching movies. Finding time to do my hobbies eases my stress and relaxes me.
I have been teaching English for four years now. I started teaching ESL in various academies in Baguio before I eventually found my way to CNE1. I have also experienced working as a customer service representative for an American telecommunications company and as a technical support representative for a British internet service provider. I had the chance to work in an English speaking environment with native speakers around, mostly British and Americans. It enhanced my communication skills in writing, listening, reading and speaking with a neutral accent. With the trainings I received and experiences I had, my confidence to speak and teach the English language to foreign learners has set fire to my burning passion to just get better at how I teach English.
CNE1 offers the same intensity of the mixture of knowledge, passion and virtue. CNE1 is a place where your learning needs are met in the right time. Take time to get to know yourself and your English learning capabilities here in CNE1! I am excited and looking forward to meeting you so we could explore the real world of English together! See you soon!