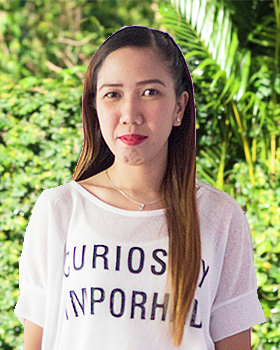 ANGELA
Good day! My name is Angela. I'm a resident of Dapdap Paniqui Tarlac. I graduated with a degree of Bachelor in Elementary Education last April 2009. I am often said to be a crazy teacher but I don't know the reason why? My hobbies are reading books, using my cellphone, cooking, dancing and singing. Most of my friends told me that I have a talent in singing but I think they're telling a lie. Currently I am working as a 1 on 1 teacher in CNE1 and I would like to share my experiences in this Institution as well as the information I know about it.
There are many language schools in the Philippines, but I think, CNE1 is one of a kind. One of the reasons is that, it was built in the middle of a farm, which is very convenient for studying. The area is wide enough to accommodate number of students. It has a garden where students can spend their free time, a canteen, where they can eat delicious and nutritious food, a dormitory for students and teachers, a library and well ventilated classrooms. Another reason why CNE1 is unique is because of the cheerful friendly, kind, respective, diligent, understanding, thoughtful and open minded people in it. The teachers don't only teach how to speak English, but many useful and valuable things too. Aside from being a good and effective teacher, they can also be a good friend, a brother or a sister. CNE1 is not only an institution but a "family" because of the good relationship and affection being shown by everyone to one another.
Working in CNE1 taught me a lot of things. First, I have learned to overcome my shyness. I've known different people and their culture. And most of all, my English skills were enhanced.
My experiences in this school will be treasured. I was able to communicate with foreign people and make friends with them. I have shared good and happy memories with my students and I have gained knowledge from them too. Working in CNE1 made me realize one thing: having a different nationality is not a hindrance to build a good relationship with one another.
To all people of CNE1, keep those sweet smiles and warm greetings for everyone.